Last Updated on April 2, 2021 by James Matthews
400 million cups of coffee are consumed every day in the United States alone. Whether it's for that caffeine boost to get you through your day or even if you just like the taste you probably drink coffee on a regular basis, and a cup of nootropic coffee can start your day off right.
If you're looking to get far more benefits from drinking coffee such as enhancing your focus and improving your cognitive function then you should try drinking nootropic coffee. Nootropics are referred to as "smart drugs" and are becoming insanely popular in coffee. 
What are nootropics? 
Nootropics are perfectly legal drugs much like caffeine that give cognitive benefits to the consumer's brain. While they are considered drugs, it is better to define them as supplements because they are very safe, help improve your mind, and have virtually no negative side effects.  
They enhance your memory and learning ability, help you process information faster, and they even help improve your concentration. Nootropics make your mind work harder without you suffering any nasty side effects.  
To clarify, they are incredibly safe to use. You cannot get addicted to them, nor will you feel poorly after taking them. Some of them are all-natural while others are man-made chemicals, but that doesn't mean they are any less effective or healthy for you. 
How to choose the right nootropic coffee? 
With so many options to choose from it can be hard to figure out which nootropic coffee to go with. There are a few factors to think of. 
What kind of coffee do you like? There are three main ways to drink coffee: 
If you already have a favorite coffee you make yourself every morning, they also have nootropic supplements you can add to an already brewed cup, so you can also go that route if you want to make your old coffee "smart". 
Knowing what kind of coffee you're looking for can make your search easier. To help below is a list of the best nootropic coffees to look into. 
Revital U Smart Coffee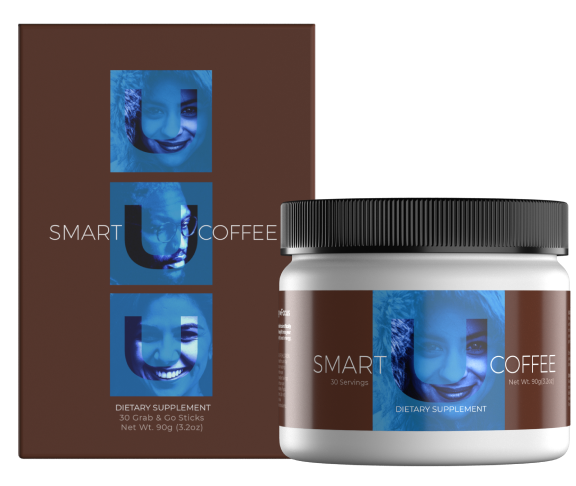 An instant coffee you can buy in a tub or with individual serving sticks. They use 11 bio-optimized ingredients to make their blend with: 
Key plant extracts to fight fatigue and appetite, as well as increase endurance and mood. 
Whole coffee fruit and green tea extract to give you natural caffeine and support memory and brain function. 
Essential vitamins and minerals to regulate blood sugar and promote heart health. 
Amino acids to increase alertness and promote brain function. 
It is vegan, soy-free, gluten-free, and non-GMO so you're looking at a pretty healthy instant coffee mix for the price of $49.99 for 30 servings which comes to the cost of $1.67 per cup.
VitaCup Genius Ground Coffee 
Made with Arabica coffee beans sourced from Brazil and Mexico, VitaCup's Genius Ground Coffee blend is designed to improve your body and mind. Using key ingredients such as: 
MCT oil, turmeric, and cinnamon to enhance your mind's capabilities 
Vitamin D3 to help boost your overall mood 
Vitamins B1, B5, B6, B9, B12, and antioxidants to fill your body with the nutrients needed to give your body the power it needs to get through the day 
The vegan, keto-friendly blend is available in three forms. You can purchase pods for a Keurig, a bag of ground beans, or instant coffee. Buying a single bag of the ground beans will cost $19.95 which will brew 20 cups making it roughly a dollar per cup. 
Neurovana Nootropic Coffee 
Neurovana is a unique blend of instant coffee designed to unlock the limitless potential of your mind. It contains six natural nootropics: 
L-theanine to reduce stress and anxiety while improving focus, cognitive function, and mental endurance. 
Lion's mane mushrooms that boost brain function, mental awareness, and heighten focus while also reducing anxiety and depression. 
Chaga mushrooms that inhibit cancer cells, improve overall immunity, attention span, and memory. 
Rhodiola Rosea that boosts stamina, concentration, alertness, and mental clarity. 
MCT oil to boost metabolism and brain function. 
Indian dried spray coffee improves memory, overall mood, and energy levels. 
This super coffee can be bought for $39.99 for 20 servings which costs roughly $2 per cup. 
NeuRoast Mushroom Coffee 
Combing a fine blend of ground coffee with several body and mind-enhancing mushrooms to make a smarter brew of coffee. In a 2 tablespoon serving you'll find: 
315 mg Lion's Mane 
305 mg Cordyceps 
150 mg Chaga 
150 mg Reishi 
80 mg Turkey Tail 
The mix of these six mushrooms will keep you better focused and energized longer. It comes in four different flavors, classic roast, decaf classic roast, chocolate hazelnut, and caramel peanut cluster. 
You can pick up a bag of NeuRoast Mushroom Coffee for $19.99 which will brew 20 cups, giving you a dollar per cup of coffee. 
Genuine Healthy Coffee 
An organic arabica blend from Latin America mixed with four other key ingredients to support cognitive enhancement. 
Bacopa to promote optimal cognitive function and improves memory, overall mood, and focus. 
Curcumin, a powerful anti-inflammatory nutrient. 
Bioperine which promotes a healthy metabolism. 
Citicoline, a potent nutrient to support attention and memory retention. 
You can purchase 12 servings of Genuine Healthy Coffee pods for $17.95 which is roughly $1.50 per cup. 
No products found.
Noocaf Smart Coffee 
Designed to increase your productivity, enhance your concentration, and give you a calm, yet focused feeling, Noocaf gives you a powerful smart coffee utilizing 6 key ingredients: 
L-Theanine to help you relax without feeling sedated. 
L-Tyrosine which reduces memory impairment and cognitive fatigue. 
Alpha GPC to increase focus and power output. 
Taurine improves blood flow, reduces jitters, and protects against excessive caffeine use. 
Vitamin B6 promotes short and long-term memory. 
Vitamin B12 to improve memory, focus, and concentration. 
For a cup of coffee that will give you the energy and focus you need without the jitteriness and anxiety that can sometimes come with caffeine, Noocaf's blend can give you the best of both worlds. You can pick up a bag of their ground coffee for $32 that provides you with 24 cups worth. That's about $1.33 per cup. 
Mastermind Coffee 
Mastermind coffee doesn't list their ingredients on their site, but there's only two. They mix together their organic coffee blend with Yerba Mate which is a tea high in cognitive benefits on its own. They say their coffee blend has 3 main advantages over regular coffee. 
Low acidity so you don't have brain fog or an upset stomach 
Heightened cognitive function to help give you a mental edge 
Improved energy and well being to make sure you can get through the day. 
They sell their Mastermind Coffee in bags of whole or ground coffee beans for $17.97 per bag of 20 servings. That's only 90 cents a cup! 
Four Sigmatic Mushroom Coffee Mix 
An all-natural coffee that utilizes the power of mushrooms to enhance your body and mind. Four Sigmatic's mushroom coffee utilizes three key ingredients: 
Organic fair-trade coffee grown in Marcala, La Paz of Honduras. 
Chaga mushrooms that are naturally grown on birch trees to promote general immunity. 
Lion's mane mushrooms that support a plethora of mental enhancements such as boosting brain function and mental focus while reducing anxiety and depression. 
It's made by Finnish people who take their coffee very seriously. They used the highest quality, all-natural ingredients to give you a bag of ground coffee for $20 that can make 24 cups which is 83 cents per cup. Thus far, it's the cheapest option on this list. 
Elevate MAX 
Elevate MAX is an instant coffee designed to make you feel happier. The happy coffee utilizes arabica coffee with a combination of five mood-enhancing ingredients: 
A blend of four polyphenols; apple, grape, and mango extracts mixed with green tea catechin extract to improve exercise performance and regulate the immune functions of your body. 
Rhodiola Rosea root extract which is a natural substance that increases your body's resistance to stress while enhancing your mood, controlling your appetite, and increasing your energy levels and overall immunity 
For $55 a tub, you can get 30 cups of enriched coffee from it which evens out to about $1.83 a cup. It's not the cheapest on the market, but it is definitely rich with mood-boosting ingredients. 
Modere Logiq with Tetrablend 
A coffee designed to support mood, focus, memory, and healthy brain aging. Using a plethora of different ingredients to boost your brains functions, they chose to focus on four: 
Supporting a healthy mood by gaining a healthy balance of energy to feel good all day. 
Boosts attention and focus so you don't get distracted when working which boosts productivity. 
Boost memory retention and learning. 
Maintain a cognitive advantage at any age 
On top of the nootropics this coffee provides, it has Modere's Liquid BioCell formula. This helps you age more gracefully by providing you with collagen which is a chemical in your body you slowly lose as you age. It will help support joint and muscle health, restore healthy skin, and support healthy hair, nails, and eyes so you look and feel young for a longer duration of your life. 
You can pick up 30 servings of instant coffee by  Modere for $54.99 which is approximately $1.83 per cup. 
Kimera Koffee 
Kimera Koffee is a sweet Brazilian coffee that focuses on brain health and better focus. Using high altitude artisan coffee grounds as their base, they combine four other key ingredients: 
L-Theanine is an amino acid found in tea leaves that increases serotonin levels and when mixed with the coffee's caffeine, it can help maintain focus, enhance alertness, and also keep you calm and subdues the jitteriness of caffeine. 
Taurine helps reverse aging from stress and oxidation while also fighting fatigue, boosting your metabolism, and optimizes brain functions. 
Alpha GPC boosts power output and memory while increasing learning capabilities with a bonus effect of increasing healing after brain trauma. 
DMAE enhances short-term memory, concentration, and learning capacity. 
The super coffee comes in a bag of ground coffee that contains enough coffee to brew 24 cups. With a price tag of $21.95, that comes to about 91 cents a cup. 
BulletProof Original 
This is a special coffee on the list. While this one is about nootropic coffees, this one has no nootropics in it. However, it differs from normal coffee which can classify it under smart coffee in a sense. The reason it's on this list is BulletProof created a sort of recipe for you to make at home using your BulletProof coffee beans.  
They have grown and chosen the best coffee beans to use for this process, so for the best results, you'll want to purchase their beans. They discovered when you mix their coffee with brain octane oil and grass-fed ghee butter and make coffee with it, it will give lasting energy, more brainpower, and increased fat burning capabilities.  
Another note to mention is they claim their coffee beans are very healthy to drink and lack lots of toxins and other harmful substances found in other coffee beverages which is another solid point to pick up a bag of this. 
You can buy a bag of their ground coffee for $14.99 which will create 24 cups for around 62 cents a cup, but if you want to make it "smart coffee" they have a kit for $56.60 that contains a bag of coffee, a jar of ghee, and a bottle of brain octane oil which will give you $2.35 a cup. 
Conclusion 
To take your mornings to the next level, upgrade your standard cup of joe for a nootropic coffee that will enhance your body and mind. Using nothing but the best nootropic ingredients, these coffee makers know how to give you the most out of your coffee. 
There's a lot of options out there, but knowing what you're looking for out of your nootropic coffee can greatly help you narrow down what brand to buy. On top of this, don't forget many of them come either ground coffee, instant coffee, or coffee pods, however, a few on the list were full coffee beans. Based on your preference for the kind of coffee you drink, that can help you make the decision easier.