Last Updated on December 8, 2020 by James Matthews
If you're a lover of tea, then you're always on the lookout for brands that offer high-quality, beneficial, and delicious options. Today, we're putting pique tea under the microscope to find out if its tea is worth your money. 
In this Pique Tea review, we're discussing everything from the brand's history and how they make their tea, to the benefits you can expect and the best-selling flavors you should try. So, let's not waste any time! 
Pique Tea – What is it? 
Recommended by leading health experts, Pique Tea produces quality tea that mainly offers four benefits: 
Promotes a healthy immune system 
Supports gut health to improve digestion 
Supports fasting goals 
Provides calm energy  
The major selling points of Pique Tea can be summed up in three words: efficacy, purity, and accessibility.  
The tea is extracted from the freshest and rarest plants using Cold Brew Crystallization. This cutting-edge extraction method gently preserves active compounds to maintain maximum potential.  
The plants used in the production of Pique Tea are harvested from family-run farms, which undergo triple toxin screening for pesticides, heavy metals, and toxic mold. Moreover, this tea offers outstanding absorbability and bioavailability to ensure you reap its full spectrum of health benefits. 
Globally recognized physicians, Mark Hyman (New York Times Bestselling Author) and Jason Fung (World expert in Intermittent Fasting) are among the many health experts who recommend Pique Tea. Their comments revolve around the excellence of the tea, its purity, simplicity, health benefits, and how it preserves its inherent power.  
All the information mentioned above paired up with the testimonials of such well-established experts was intriguing enough for us to investigate further.  
Pique Tea – How it's Made 
Pique Tea claims to deliver the same benefits you can get from tea leaves but in the form of crystals. So we decided to take a closer look at the manufacturing process to see if everything adds up. To our pleasant surprise, their methods and techniques supported their efficacy claim. 
Here's how Pique Tea makes its tea crystals: 
1. Securing Ingredients of the Highest Quality  
The company harvests premium, organic teas, and herbs from family-run farms. Whether it's a black tea from Uva, Sri Lanka; matcha from Kagoshima, Japan; green tea from Mogan National Park, China; or Hibiscus from Aswan, Egypt; Pique Tea sources exclusively from some of the world's finest and most protected sources. 
2. Patented Cold Crystallization™ 
Next, the patented cold crystallization technique kicks in. The tea is brewed at low temperatures for up to 8 hours to gently extract the naturally occurring antioxidants and phytonutrients and preserve them in a whole form.  
Then, the water in this super-concentrated brew is separated using a proprietary combination of pressure and very low heat. This is the most effective way to extract the phytonutrients residing in plants.  
This production process yields pure tea crystals with maximum phytonutrients, which are concentrated polyphenols – a distinct type of antioxidants found in plants. Polyphenol antioxidants help reduce the destructive effects of free radicals and oxidative stress.  
Pique Tea – Benefits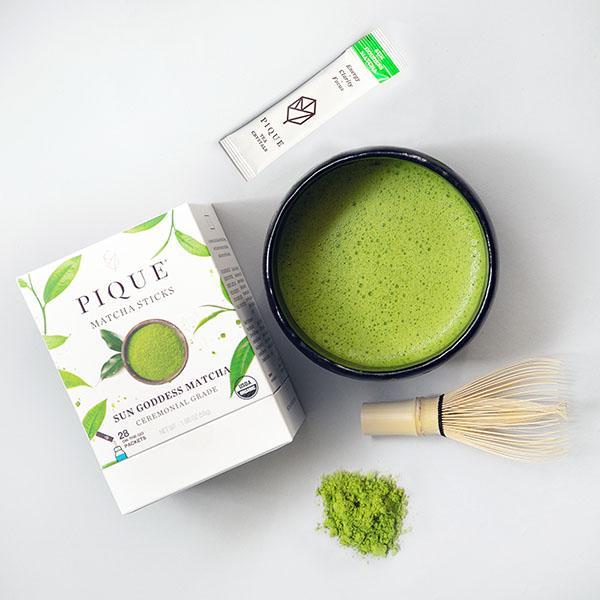 As we mentioned earlier, the benefits of Pique Tea are primarily focused on four aspects: immunity, digestion, fasting, and calmness.  
When it comes to boosting immunity, studies have shown that powerful antioxidants that are abundantly found in tea (such as EGCG catechins) can support immunity functions. 
As for gut health, tea contains concentrated polyphenols that help promote the growth of beneficial gut bacteria necessary for good digestion. 
Pique Tea is also great for people who exercise fasting since it's loaded with health-supportive compounds that continue to energize and armor up your body while fasting. 
Additionally, Pique Tea contains l-theanine. That's an amino acid known for its calming and mood-elevating effects. It works synergistically with caffeine to provide calm, sustained energy. 
Pique Tea – Immune Support  
We reviewed the official Pique Tea website for more information about the advantages of their tea when it comes to boosting immunity. It turns out that tea is really effective and there's a lot of science to back up their claims. Obviously, with so many health professionals recommending this tea and using it themselves, we can safely say that Pique is on the right track. 
Polyphenols are the secret weapon of tea that grants it the power to support immunity. They're antioxidants found in super-plants, and your body craves them.  
If you've heard of oxidative stress and free radicals, then you know they're bad news for the body as they cause non-stop damage to cells, proteins, and DNA.  
As antioxidants, polyphenols intervene by binding to those free radicals, consequently preventing them from causing damage. This is why you need to make sure your body is getting a continuous and diverse supply of polyphenols/antioxidants to maintain the functions of your immune system.  
The good news is that Pique tea is loaded with polyphenols, so their effect is maximized. But that's not all! 
As it turns out, different types of tea provide different types of antioxidants. For example, green teas contain catechins that are powerful antioxidants for cellular health. Black teas, prized for their theaflavins which help promote gut health – the center of 80% of your immune system. 
To maximize the immune-related benefits of tea, Pique Tea recommends sticking to the following principles: 
Regularly drink
Drink enough 
Drink the rainbow 
Immune Support Protocol
How to drink the rainbow you ask? Well, Pique Tea has an immune support protocol that you can follow. It goes like this: 
Morning – drink 1 to 2 cups of black teas such as English Breakfast and Earl Grey. 
Afternoon – drink 1 to 2 cups of green teas such as Jasmine and Sencha. 
Evening – drink 1 to 2 cups of herbal teas such as Ginger, Hibiscus, or Rooibos. 
To help you on your health journey, Pique Tea offers Immune Support bundles that include up to 15% discount plus free shipping.  
A good place to start is with the Essential Immune Support Bundle that consists of 1 carton of Jasmine Green, 1 carton of Sencha Green, 1 carton of English Breakfast, 1 carton of Earl Grey, and 1 carton of Rooibos Vitality Elixir. For $64, you get a total of 70 servings. 
You may also want to consider the widely popular Complete Immune Support Bundle that includes 1 extra herbal tea. That's 84 servings for $76, marked down from $84.  
If you're looking for the ultimate immune support experience, consider the best value bundle for $92 (originally $108) with 6 different teas and a total of 112 servings. 
If you follow the Pique Immune Support Protocol and don't experience transformational results within 30 days, Pique will give you a full refund – no questions asked. 
Pique Tea – Fasting
Whether you're dealing with stress eating, slow metabolism, or just want to lose some weight, fasting can be a ticket to your destination. Pique Tea can help you achieve your fasting goals by fighting off cravings, supporting immunity, and helping you stay strong. 
Pique Tea offers an assortment of fasting teas that include: 
The Matcha Green Fasting Tea – high in catechins and l-theanine, this tea boosts immunity, reduces anxiety, and improves mood. It features a hint of peppermint in the tea to help suppress hunger.   
The Ginger Green Fasting Tea – containing ginger, licorice root, citrus, and mint, this tea helps promote healthy digestion and fights off hunger.
The Cinnamon Herbal Fasting Tea – this tea helps curb hunger and maintains a healthy blood sugar level. Cinnamon also combats sugar cravings, effectively minimizing those late-night trips to the snack drawer. This soothing caffeine-free tea is both flavorful and naturally sweet.   
The Bergamot Fasting Teas – these are available in two flavors: green and black. Bergamot has impressive mood-lifting properties that perfectly reflect its bold and bright flavor profile. If you need a shot of energy and are looking for a fasting tea, this one will hit the spot. 
Bundles
Just like their Immune Support bundles, Pique Tea also has Fasting bundles that you can choose from, with a discount of up to 10% and free shipping.  
If you're just trying out the fasting tea experience, you can go for the Basic option where you'll get 1 carton of either Matcha Green, Cinnamon Herbal, Ginger Green, or Bergamot Black. 
If you're on the more serious side, the Complete Fasting Trio bundle can be an excellent choice. It consists of 84 servings of green and herbal teas, costing you $103 instead of $112 with free shipping included.  
The Ultimate Fasting bundle features 1 black tea, 2 green teas, and 1 herbal tea for a total of 140 servings. You can get this bundle for $169 (originally $188) and enjoy free shipping. 
Pique also offers a fasting protocol that you can follow whether you're a morning faster, an evening faster, or a longer faster. 
Pique Tea – Build Your Own Bundle 
If you want to create your own unique bundle with all your favorite tea options, then you'll be happy to learn about Pique's Build Your Own Bundle service. 
There's only one rule here: the more tea you buy, the more money you save. 
Pique Tea offer 3 bundle types for you to pick from: 
Basic: buy 8 cartons and get free shipping  
Recommended: buy 9 cartons and get 1 free carton plus free shipping  
Maximum Savings: buy 10 cartons and get 2 free cartons plus free shipping  
Pique Tea – FAQs 
Where can I buy Pique Tea? 
You have plenty of options in this department as you can purchase Pique Tea through any of the following outlets: 
Erewhon 
Wegmans 
HEB 
Whole Foods 
Amazon.com 
How long does shipping take? 
Pique processes and ships all orders the same day as long as you place the order before 12:00 PM PST. Orders are processed and shipped during regular hours (Monday – Friday 9:00 AM – 5:00 PM) via USPS, generally arriving 3 to 5 business days after processing.  
Once your order is out for shipping, you'll receive a confirmation email with tracking numbers. Additional shipping fees apply to international shipments. 
Can I return tea? 
Pique has a generous and convenient return policy that shows how much the company stands behind the quality of its products and the satisfaction of its customers.  
Pique Tea grants full refunds for orders within 30 days of receipt, including a free return shipping label. They recognize that not every tea has to fit your palate, so you also have the option to exchange your teas if you want. 
Can I cancel my subscription? 
The Pique Tea subscription is customizable and flexible. It's also easy to cancel with no long-term commitments to worry about.  
You can skip or cancel online without penalties after your second shipment. Simply visit the Subscriptions menu of your account and click cancel for any product.
Wrap Up – Is Pique Tea Worth Buying? 
Our Pique Tea review led us to a rather solid answer: yes, Pique Tea is worth the purchase. It's high-quality ingredients and cutting-edge technology are enough, but its health benefits, backed by recommendations of renowned doctors with real scientific evidence, make it well worth the price.