Last Updated on December 5, 2022 by James Matthews
Rosamonte Yerba Mate is one of the most popular, well-known, and well-loved drinks in the world. Wildly popular all over the world but especially in its home country of Portugal. Yerba Mate is a delicious and strong, powerful drink created from the leaves of the South American rainforest tree.
Legends swirl about Yerba Mate. Many say it has powerful and even magical properties that can cure and heal while others just say it is one of the greatest hot – or cold – drinks to come from South America. It carries the strength of coffee, the physical health benefits that come with tea, and the delicious taste of sweet chocolate. All of those features come together in one drink with Yerba Mate.
This drink comes from the naturally caffeinated leaves of a native holly tree, which lines the hills of South American Atlantic rainforests. Yerba Mate leaves are still hand-harvested by farmers, known as yerbateros, across South America. You can find hundreds of small farms dotting the countryside of Argentina, Paraguay, and Brazil. After farmers tend to dry the leaves, they are able to sell or enjoy the drink and benefit from all of its wonderful attributes.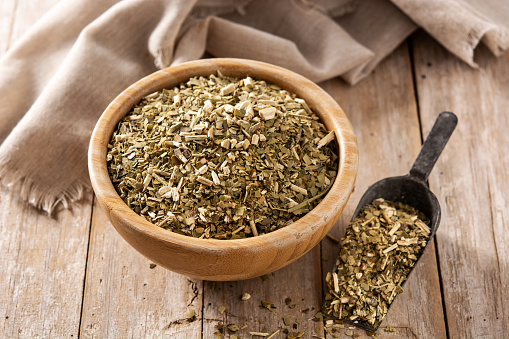 In 1936, the son of Ukrainian immigrants, Demetrio Hrenuk created a family business dedicated to the harvesting and sale of Yerba Mate. In 1966, Rosamonte and its special brand of Yerba Mate were born. So how does it taste? Since their Yerba Mate is the most popular product they sell, you might wonder how great it tastes compared to competitors. Is Rosamonte Yerba Mate really as special as some people say?
You would think if a company completely built itself around Yerba Mate, it would be good at making it. You would be right. Rosamonte's Yerba Mate is definitely as incredible as some fans say, filled with delicious flavor and aftertaste and a smell that will both wake and relax you. There is definitely a reason why so many coffee and tea drinkers around the world flock to get any bag of Rosamonte whenever they can.
Scent
The first thing you will notice about the Rosamonte Yerba Mate is its packaging. Designed with a vintage and unique look, the Yerba Mate feels straight out of South America. Brilliant design and a gorgeous color scheme only make this Rosemonte treat even more enticing.
Things only get better when you open up the bag and are met with the decedent smell of the Yerba Mate. The scent of the grounds is earthy, rich, raw, and in only the best ways. Many have said the smell of Yerba Mate is slightly sour, and lemony at times. It is light and pleasant and easy on the nose. One strong smell of the drink will have you wanting to brew up a drink immediately. It doesn't smell like coffee or tea, it smells like something completely unique. As you spend more time with the scent of Yerba Mate, you will notice hints of smokey dry would and hay, once again reiterating its earthy origins. This smells exactly like something that is hand harvested and handled by expert farmers.
Taste
But the packaging and smell don't mean anything if the taste isn't remarkable. Thankfully, Rosamonte's Yerba Mate is something that tastes incredibly delicious. If you are a newcomer to Yerba Mate you may be a bit taken aback by the first taste of this drink. There is a strong citrus taste upon the first sip. In fact, some have said the astringency is too much for Yerba Mate beginners.
However, most people find that the taste is minor compared to the other flavors mixed into the drink. The earthy creation of Yerba Mate is evident in every drink of Rosamonte's creation. A light smokiness will fill your mouth, along with underlying nuttiness and slight floral expressions as well. Sweet, smooth, and pleasant, Rosamonte's Yerba Mate is the best when it comes to this delicious South American delicacy.
Rosamonte Yerba Mate Finish & Effect
The entire Yerba Mate experience concludes with a short, light, slightly sour, and earthy finish that makes the entire drink memorable and unlike any competitor on the market. There are many ways to describe Yerba Mate from Rosamonte. Some call it refreshing, others call it revitalizing, and others call it calming and soothing. No matter what you call it, you will agree that Yerba Mate is a Southern American treat that hits the spot every time.
You may be asking yourself what sort of effect Rosamonte's Yerba Mate will have on you. Is it going to spring you awake like espresso? Will it be subtle and slow like a steeped tea?
It will not take you a long time to finish a cup of Yerba Mate but the effects will stick around for a much longer time. Most drinkers comment that a glass of Rosamonte increases focus and energy and also leaves them feeling relaxed and lighter. Others have said that their focus is greatly improved when drinking Rosamonte Yerba Mate. Productivity seems to go up when drinking Yerba Mate. However, it also creates a calming, soothing feeling too. That means that you can drink Yerba Mate in the morning, afternoon, or night and won't fear that it will keep you awake all night long.
Your reaction to Yerba Mate will last about as long as you want it to. It will give you a great start to the day or a mellow afternoon or evening. That is what makes this drink so special, it won't keep you buzzing hours after you want it to wear off.
Rosamonte is a classic brand, with good reason. They know what they are doing and they take their products very seriously. Their Yerba Mate is a drink unlike any other. It is stronger than coffee, it tastes better than tea, and it has strong and bold flavors that last longer. It's a terrific drink from a terrific company that is historic, classic, and unlike any other. The best way to start – or end – your day is a cup of Rosamonte Yerba Mate.