Last Updated on December 8, 2020 by James Matthews
Nut allergies are fairly common in the US. According to a recent study, 2.5% of children in the US have been diagnosed with nut allergies in 2019. However, there's a no-nut butter alternative that tastes almost like peanut butter: tiger nut butter! 
But what exactly is tiger nut butter, and why should you add it to your meals? Let's find out.  
What Is Tiger Nut Butter?  
Despite its name, tiger nuts aren't actually nuts. Rather, it's a type of tuber, similar to potatoes, yams, taro, and Jerusalem artichokes. It's also commonly referred to as nookon, chufa, or yellow nutsedge, depending on where you're from.  
The history of tiger nuts is a fascinating one. Some say that hominin Paranthropus boisei, AKA the "Nutcracker Man", consumed tiger nuts on a day to day basis. As they existed ~2.3 million years ago, it's safe to say that tiger nuts are one of the oldest crops in the world.  
In Ancient Egypt, tiger nuts were carefully cultivated and considered extremely important. They were medicinal as well as food.  
Today, tiger nuts, specifically tiger nut butter, are used in multiple recipes. Along with being completely vegetarian, vegan, and gluten-free, they're also paleo-friendly. Furthermore, they're suitable for those partaking in a raw vegan diet.  
Tiger nut butter, similar to peanut butter, is made by soaking whole tiger nuts in water for about 24 to 48 hours. It's then drained, chopped, and processed in a food processor with oil and honey, until a smooth paste forms.  
As tiger nut butter is naturally sweet, some people forgo the honey entirely. It pairs brilliantly well with fresh fruit, desserts like ice creams and pies, and even vegetable slices. 
Tiger Nut Butter Flavor vs. Other Nut Butters 
One of the most important questions one should ask before trying anything new is, "how does it taste?" 
The texture of tiger nuts is somewhat difficult to describe. When you hold it, it's similar to holding a hard fig. Inside, it's slightly chewy, almost like vegan jerky.  
Once you manage to crack through the hard outer layer, you'll be met with a fibrous inside that tastes nutty, gritty, and surprisingly sweet. It's kind of like a cross between sweet potato, almond, and pecan, topped with a flavor unique to its name.  
Other than its high nutritional values, some believe they're the "perfect snack" because they're, well, hard to eat. Their tough exterior prevents people from eating too much of them. But on the bright side, they're great for those who want to exercise their jaws! 
When turned into tiger nut butter, you'll be left with a creamy, sweet texture similar to almond or cashew butter. Some say it has a vanilla or a coconut-like aftertaste when consumed alongside their favorite dessert.  
Tiger nut butter doesn't have a stick-to-the-roof-of-your-mouth texture like peanut butter does, nor is it thick like that of sunflower seed butter.  
Health Benefits of Tiger Nut Butter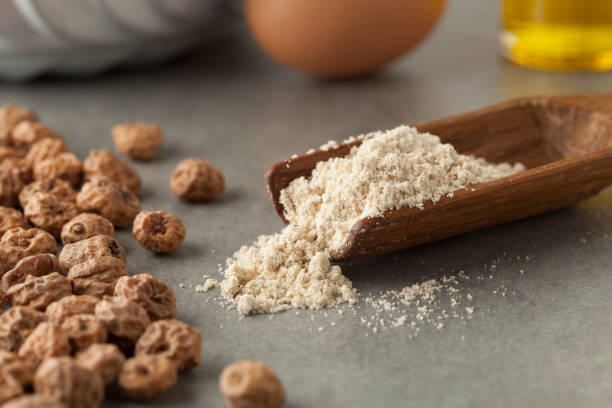 Many nutritionists believe that tiger nuts are superfoods. Although they're fairly uncommon, especially in the US, tiger nut butters actually have a lot of benefits.  
Rich in Nutrients  
Tigernut butter is extremely rich in fiber, vitamins, and minerals, including magnesium, potassium, vitamin E, vitamin C, Zinc, and more.  
In fact, during prehistoric times, our ancestors could extract sufficient nutrients from a tiger nut-based diet, or 80% of required daily calorie intake, in only 2.5 to 3 hours.  
Although we aren't as active as they were before, it still makes for an extremely healthy addition to our breakfast table. 
Improves Digestion 
Tiger nuts contain a large amount of fiber, which is a nutrient that keeps the digestive system in optimal shape.  
Tigernut butter is also presumed to contain a type of fiber called resistant starch. Resistant starch feeds on the friendly bacteria inside your stomach, therefore aiding your digestion to run smoothly.  
As a result, tiger nut butter reduces the likelihood of constipation, unpleasant gas, bloating, indigestion, and diarrhea.  
Helps Control Diabetes 
The tiger nut's high fiber count slows down the absorption of sugar in the stomach, which in turn keeps blood sugar levels in check.  
Tigernuts are also rich in amino acid arginine, which increases insulin production and sensitivity, both of which contribute to lower blood sugar levels.  
Furthermore, as it contains high doses of sucrose, tiger nut butter makes for the ideal substitute for carbohydrates that do raise blood sugar.  
Tiger Nut Butter Recipes 
As we've discussed, you make tiger nut butter by soaking whole tiger nuts in liquid for about 24 to 48 hours before throwing them into a blender with coconut oil.  
However, if you don't have raw tiger nuts in your local store, or simply don't want to wait longer than a few minutes, you can use this recipe instead:   
Easy Tigernut Butter Recipe  
Ingredients  
1 tbsp raw honey (optional) 
1 tsp vanilla extract (optional) 
Pinch of Himalayan or sea salt 
Instructions  
Combine all ingredients in a food processor or a high-speed blender. 
Process or blend until the texture is similar to creamy nut butter. Every 30 seconds or so, you may need to stop and scrape the side to make sure all is combined.  
Scoop out your fully blended tiger nut butter and store it in a glass at room temperature.  
As tiger nuts are already naturally sweet, you may not need to add honey, so make sure to blend it to your taste.  
You can use your tiger nut butter spread on a piece of toast or other baked goods, such as muffins or pound cakes. You can also drizzle it over pancakes, or on top of a bowl of porridge.  
Tiger Nut Butter Cups  
Tigernut butter cups are the perfect AIP substitute for peanut butter cups. It's extremely easy and delicious to make! As a base, we'll be using the above recipe for making tiger nut butter.  
Ingredients  
3 tablespoons powdered sugar (optional)  
1/2 cup of creamy tiger nut butter  
1 cup of melted chocolate or carob  
Instructions  
Line your cupcake tin with cupcake liners.  
Stir tiger nut butter and powdered sugar until smooth – but only if you feel like your tiger nut butter has a semifluid consistency. Otherwise, you can skip this step.  
Spread 1 to 2 tablespoons of chocolate in individual tin bases. 
Gently dollop 1 to 2 tablespoons of tiger nut on top of the first base.  
Cover each dollop with more chocolate. Smooth it out so it'll have an even consistency.  
Refrigerate for about an hour or until hardened.  
Remove tiger nut butter cups from the liners 
Enjoy!  
For those who'd rather not use chocolate, you can instead use carob as a substitute. It's a healthy alternative to chocolate and contains a ton of fiber, antioxidants, and low amounts of fat and sugar.  
Tiger Nut Butter Balls 
If you're looking for a healthy holiday treat that you can indulge in without worrying about feeling sick afterward, tiger nut butter balls are definitely a recipe you should try.  
Ingredients  
1/2 cup of tiger nut butter (the same recipe we've used earlier)  
1/2 cup of coconut cream  
2 tbsp coconut oil  
2 tbsp carob powder (or chocolate powder, but carob is way healthier!)  
1 tbsp maple syrup or raw honey 
1/2 tsp gelatin  
Instructions  
Place tiger nut butter in your refrigerator for about half an hour or until it has a firm consistency.  
Using a teaspoon, roll the tiger nut butter into balls once film. Place said balls onto a parchment paper on a freezer-safe dish.  
Place your tiger nut balls inside your freezer for about 20 minutes.  
While you wait, combine coconut cream, coconut oil, carob powder, and maple syrup into a saucepan. Over medium heat, continually whisk the mixture.  
Once the mixture is heated through, add the gelatin powder. Mix thoroughly until combined, then remove it from the heat and allow it to cool completely.  
After 20 minutes is up, and your tiger nut balls are hard to touch, drop it onto your carob mixture one at a time. Use a spoon/fork to cover it through.  
Once done, remove the balls using a fork so the "chocolate" excess drips off. Place it back onto the parchment-lined dish and let it cool in the fridge for another 20 minutes to set.  
Before serving it to your guests, allow it to soften for about 20 to 30 minutes.  
Enjoy! 
How Much Does Tiger Nut Butter Cost?  
Because it isn't common in the US, tiger nut butter is slightly more expensive than other nut butter. A jar of high-quality store-bought tiger nut butter can cost over $30.  
However, organic tiger nut flour is significantly cheaper. A pound of tiger nut flour costs about $10 on average.  
Conclusion 
Tiger nut butter is the ideal substitute for those who are suffering from nut allergies. It's healthy, sweet, and most importantly, it tastes good. If you haven't tried tiger nut butter yet, it is highly recommeded you to do so!