Last Updated on October 21, 2020 by James Matthews
Nowadays, more and more people realize how important it is to invest in a healthy diet. Former tennis athletes Kristel and Micheal are among those people. They are the minds behind the brand Your Superfoods, a company that sells superfood mixes that can be combined with drinks such as smoothies and eaten with any meal.  
If you are interested in knowing more about this brand, then you are on the right page. In this article, we will take a comprehensive look at Your Superfoods, and their products.  
Let's begin! 
About the Brand 
The story behind Your Superfoods is very inspiring. A few years ago one of the founders, Micheal, found out that he had cancer. The other founder, Kristel asked her nutritionist aunt for help creating superfood mixes that would help Micheal recover.  
As time passed, they realized that they could extend their reach to other people, and provide others with affordable and high-quality mixes that would help people achieve a healthier lifestyle. Today, they have a solid business with a loyal cutomer base.  
Some aspects of their business that set them apart from their competition are:  
Quality 
Each Your Superfoods mix contains 5 to 6 superfoods that are sustainably sourced and naturally dried. Every ingredient in the mix is organic, gluten-free, plant-based, non-GMO, and Glyphosate-free. Additionally, their mixes do not contain any artificial coloring, preservatives, or flavors.  
Transparency 
Although some businesses are very secretive when it comes to where they source their ingredients from, that is not the case for Your Superfoods.  
They are dedicated to upholding transparency in their supply chain. Furthermore, they believe that by doing so, they will help consumers feel confident that what they are buying is indeed clean and all-natural.  
Customer Service 
Your Superfoods deserves a lot of credit when it comes to their customer service. They are responsive when it comes to inquiries or follow ups. They also promptly answer questions on their website, which helps consumers feel taken care of.  
Corporate Responsibility 
Your Superfoods takes pride in giving back to the community. According to their website, they are B Corp certified. This is the highest certification given to companies that take their corporate social responsibilities seriously.  
Furthermore, they are also partnered with Action Against Hunger. Your Superfoods donates a food bar for every Superfood mix they sell.  
Online Platform 
Your Superfoods' website is very user friendly. You can automatically get an idea of what the company is about from the home page.  
As you browse the website for products, each mix and bundle has detailed descriptions of ingredients, sources, and instructions. Some even provide recipes to try.  
Additionally, their checkout process is very efficient. There are two choices for the costumes; to buy once or to choose a subscription. Choosing a subscription is much more affordable, but there are also discounts for one time purchases from time to time.  
Product Review 
Here are the top-selling mixes from Your Superfoods: 
Mellow Yellow 
The Mellow Yellow got its name from its mostly yellow ingredients, which include lucuma, cinnamon, ginger, ashwagandha, and turmeric, as well as its soothing and anti-inflammatory benefits.  
It was designed by nutritionists to help you get a good night's rest and wake up feeling energized and refreshed. Each ingredient is certified organic and non-GMO. It does not contain any artificial flavoring, additives, preservatives, or sweeteners, which means that it is about as clean as superfood can get.
The taste of this mix is a bit spicy with a fresh aftertaste, making it perfect if you want to get an extra kick of flavor in your drinks or meals. With this mix, suggested recipes include turmeric bliss balls or golden milk.
One jar of Mellow Yellow is 7.05 oz. This is about 40 servings, so you can get a dose of your much-needed superfood mix every day of the month.  
Super Green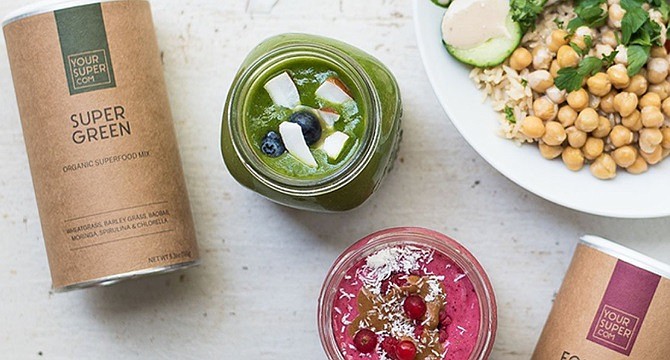 Are you looking to increase your green intake, but you don't like salads and vegetables? The Super Green mix might just be the solution for you. It is designed to provide your system with micronutrients even if you do not eat green veggies every day.  
It contains chlorella powder, spirulina, baobab, moringa, barley grass, and wheatgrass. These contain iron, folate, potassium, vitamins A, K, and C. Most of its ingredients are from Germany, but the baobab is from Ghana and the Moringa from Tanzania. 
A jar of Super Green mix contains about 30 servings. Each serving will cost you roughly $1.16, which is less than what you would typically pay for a single green vegetable in one meal.  
Also, it is very easy to prepare. You can add this mix to your smoothie or sprinkle it on top of almost any food. It has a lemon flavor. If you are not a fan of the flavor, you can mask it with sweet-tasting fruits like mangos, bananas, or apples.  
Sale
Forever Beautiful
Forever Beautiful is a mix packed with nutrients from 6 different superfoods, including chia seeds sourced from Bolivia, acerola cherries, maqui, and acai from Brazil, and maca from Peru.   
This mix is designed to help achieve glowing, healthy skin. Each ingredient has nourishing properties that help rejuvenate the skin, improve the complexion, slow signs of aging, and remove impurities.  
All ingredients in this mix are organic. Everything is gluten-free, and 100% vegan. This mix does not contain any additives or preservatives.  
It's recommended that you include a teaspoon of this mix in your smoothie or breakfast bowls. It has a slightly sweet, berry-like taste  
One jar of this mix contains 40 servings. Each serving costs around $0.87, which is slightly cheaper than their other mixes, but that does not mean this is less healthy and delicious.  
Skinny Protein
If you are looking for something that will help you recover after a workout and control your hunger, Skinny Protein is the mix for you. It contains all the essential amino acids your body needs and 62% absorbable protein with low amounts of carbs. 
This mix is a guilt-free treat if you are on a strict diet. It contains nutritious and good energy sources such as alfalfa and spirulina from Germany, moringa from Tanzania, pea protein from Spain, and hemp from Romania. Just like other mixes from Your Superfood, all the ingredients on this one are organically certified, all-natural, and gluten-free.  
You can add this mix to your post-workout snacks, smoothies, or breakfast bowls. It has a nutty taste, and it can even taste better when mixed with your favorite fruits.  
Energy Bomb 
Do you have a hard time keeping your energy levels steady throughout the day? The Energy Bomb mix might help you with that. Nutritionists designed this product to boost your energy levels for the whole workday.  
This mix contains 5 energy-boosting superfood ingredients, including acai and guarana from Brazil, maca and lucuma from Peru, and banana from Ecuador. These ingredients are natural sources of caffeine and antioxidants. It also contains high levels of minerals, iron, niacin, and vitamins A, E, and C.  
In terms of flavor, this is among the most delicious mixes available from Your Superfoods. It has a slightly nutty, berry taste, and it tastes good all on its own, but if you want to add extra flavors, you can mix it into a smoothie with your favorite fruits and vegetables.  
A jar of this mix is 7.9 oz, which is around 40 servings. Each serving will only cost around $0.75, which is a very good deal.  
Moon Balance
The Moon Balance mix aids in hormone health. Consistent use of it can help women who are suffering from menopause, PMS, and mood swing symptoms.  
This mix contains 6 superfood ingredients that are100% natural and organic. These include baobab, maca, Hibiscus, amla berry, Shatavari, and beetroot. 
All the ingredients in this mix are carefully dried to preserve the natural nutrient content. The products are also tested by a 3rd-party laboratory to help ensure that it is truly safe, organic, and high-quality.  
It is very easy to use; you can add it to your favorite snacks, breakfast, or smoothies. It has a tart lemonade taste, which makes it very versatile to any food or drinks you pair it with. It is also tasty on its own with water.  
Sale
Plant Collagen
Your Superfoods created this product for natural collagen protection. The ingredients are carefully picked to aid with skin hydration and overall health. You can add it to oatmeals, smoothies, or used as a creamer on lattes.  
The ingredients on this mix include aloe vera and tremella from China, vanilla from Madagascar, lucuma from Peru, pea protein from Belgium, and tocos from Thailand. Each ingredient is naturally dried to retain its micronutrient content, and they are sourced sustainably.  
A jar of this mix is around 120 grams. The suggested size per serving is 5g, which means a single jar contains around 24 serving. Each serving will cost around $1.45 per portion. This is among the most expensive mixes from Your Superfood.  
Magic Mushroom 
The star ingredients in this mix are the Chaga mushrooms and reishi mushrooms sourced from China. The Chaga mushroom contains high levels of antioxidants that can help reduce stress, while the reishi mushroom has properties that can help improve your mood.  
These mushrooms are legal and safe to consume. These do not have psilocybin, which causes hallucinations or any psychoactive side effects.  
Aside from the star ingredients, this mix also contains lucuma and cacao from Peru and cinnamon and ashwagandha from India. This gives this mix a chocolatey cinnamon taste, so if you are not a fan of mushroom's earthy taste, don't worry., you won't taste any of it on this mix. 
You can add this mix to your favorite smoothie or coffee. You can also put it on your breakfast oatmeal or snacks.  
A jar of Magic Mushroom is 5.3 oz. It contains about 30 servings, and each serving costs approximately $1.16.
Power Matcha
This mix is unique for its claim to improve productivity and focus. It is full of natural caffeine and antioxidants.  
It contains 5 superfood ingredients that can help with concentration. The main ingredient in this mix is Matcha from Japan. This ingredient alone contains plenty of antioxidants and caffeine that will help boost your brainpower. Additionally, this mix also contains maca from Peru, moringa from Tanzania, and wheatgrass and barley from Germany. 
You can use this as a coffee alternative to avoid the caffeine crash often associated with coffee. You can also add it to your favorite plant-based smoothies or breakfast dishes. It has a mildly sweet green tea flavor, which is distinct and delicious.  
Final Thoughts 
Overall, Your Superfoods is an excellent company. They provide consumer access to 100% organic and safe superfood mixes. Nutritionists deigned these mixes to each fulfill different needs.   
Besides providing quality products, Your Superfood is also excellent in giving back and helping local communities. They also provide excellent customer service, and their prices are very reasonable.
If you are looking for high-quality and delicious superfood mixes, then you should definitely check out Your Superfoods.